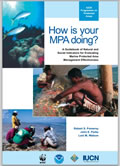 Pomeroy, R.S., Parks, J.E., Watson, L. M. 2004. How is Your MPA Doing? A Guidebook of Natural and Social Indicators for Evaluating Marine Protected Area Management Effectiveness. IUCN Gland, Switzerland and Cambridge, UK
This comprehensive guidebook was developed to assist marine protected area (MPA) managers in assessing the performance of their MPA. It contains step-by-step instructions on how to carry out effective monitoring including the selection of indicators, planning and conducting the evaluation and communicating the results for adaptive management.

The guidebook provides a step-by-step process for planning and evaluating the management effectiveness of MPAs. It lists 42 MPA-specific indicators that MPA managers can choose to use for evaluating their site. The book draws on the work of the MPA Management Effectiveness Initiative shaped by IUCN's World Commission on Protected Areas (WCPA) - Marine and World Wild Fund for Nature (WWF).