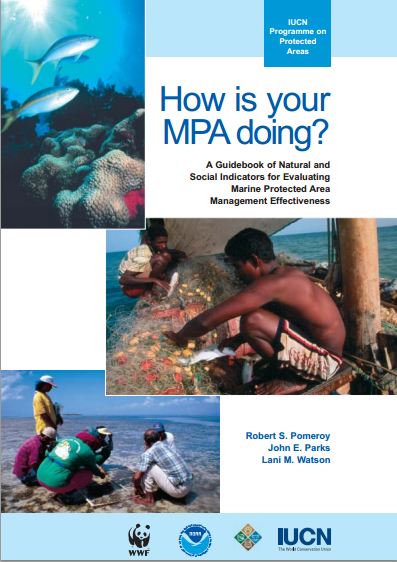 Pomeroy, R.S., Parks, J.E., Watson, L. M. 2004. How is Your MPA Doing? A Guidebook of Natural and Social Indicators for Evaluating Marine Protected Area Management Effectiveness.  IUCN Gland, Switzerland and Cambridge, UK
This comprehensive guidebook was developed to assist MPA managers in assessing the performance of their MPA. It contains step-by-step instructions on how to carry out effective monitoring including: selecting indicators, planning and conducting the evaluation and communicating the results for adaptive management.

It has a total of 42 indicators (biophysical, socioeconomic and governance) which have been tested rigorously over a two year research period. Each indicator is described in detail with suggestions on how to assess it. Case studies are provided along with advice on how to communicate the results and carry out adaptive management.