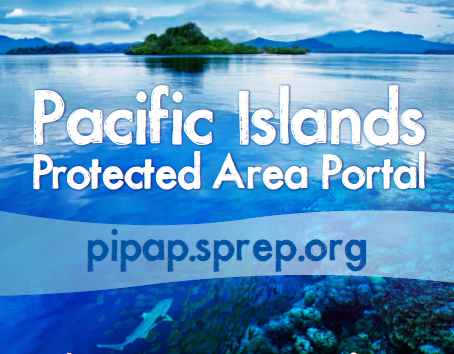 The PIPAP Vision
To provide a doorway through which Pacific Islands protected area practitioners can share expertise and benefit from opportunities
What is a Protected Area?
In the Pacific, protected areas encompass more than just national parks and other areas established by central governments.  Protected areas can include locally designated and managed areas affording some level of protection to natural resources and the environment.  Although such areas may not be recognized by international rankings such as the Protected Areas Categories of the International Union for the Conservation of Nature (IUCN) nor be displayed in international databases such as the World Database on Protected Areas (WDPA), such areas and instruments of protection are nonetheless a part of Pacific island culture and perspective. Although traditional use or sustainable use is included in IUCN categories V and VI, IUCN categories do not represent the final word on protected areas.  Pacific island countries and territories are free to establish their own additional categories for their own use.
 A Pacific island protected area can be:
beach reserve, biosphere reserve, bird reserve, botanical reserve, closed area, community-based adaptive co-management, community-based fishery, community-based resource management, community conserved area, community conservation area, conservation area, conservation lease, cultural park, faásao, fauna reserve, fish management area, fisheries reserve, forest conservation area, forest reserve, indigenous cultural and conservation area, island park, Kogatapu mo, locally managed fishing zone, locally managed marine area, marine managed area, marine park, marine protected area, marine sanctuary, marine reserve, national heritage area, national monument, national park, nature reserve, protected seascape, qoli qoli, rahui, Ramsar site, raúi, special management area, tabu areas, vanua, voluntary protected area, wilderness area, wildlife management area, wildlife sanctuary, World Heritage Site, and more.
Protected Areas are one important aspect of biodiversity conservation, an integral part of the Pacific Oceanscape Vision, the Convention on Biological Diversity, and the Framework for Nature Conservation and Protected Areas in the Pacific Islands Region: 2014-2020 (Cadre pour la Conservation de la Nature et les aires protégées dans la Région du Pacifique Insulaire).
A guide to the linkages between the Aichi Biodiversity Targets, NBSAPs and the objectives of the Framework for Nature Conservation and Protected Areas in the Pacific Islands region 2014–2020
What is the Area Served by the PIPAP?
PIPAP is concerned with many countries and territories of the Pacific, which correspond to the Pacific island countries and territories served by the Secretariat of the Pacific Regional Programme for the Environment (SPREP): American Samoa (ASM), Commonwealth of the Northern Mariana Islands (MNP), Cook Islands (COK), Federated States of Micronesia (FSM), Fiji (FJI), French Polynesia (PFY), Guam, Kiribati (KIR-G, KIR-P, KIR-L), Republic of the Marshall Islands (MHL), Nauru (NRU), New Caledonia (NCL), Niue (NIU), Palau (PLW), Papua New Guinea (PNG), Samoa (WSM), Solomon Islands (SLB), Tokelau (TKL), Tonga (TON),Tuvalu (TUV), Vanuatu (VUT), and Wallis and Futuna (WLF). SPREP also has five metropolitan members:  Australia, France, New Zealand, United Kingdom, and United States of America.
Illustrated below are the countries and territories served by PIPAP and SPREP.  The gray lines represent the boundaries of a country's or territory's Exclusive Economic Zone (EEZ).  Some countries and territories such as Australia, Commonwealth of the Northern Marianas, Cook Islands, Kiribati, New Caledonia, New Zealand, Palau, Pitcairn (United Kingdom) and United States of America have designated large parts of their EEZ as a marine protected area or sanctuary (light blue).  The dark blue dots represent other marine protected areas.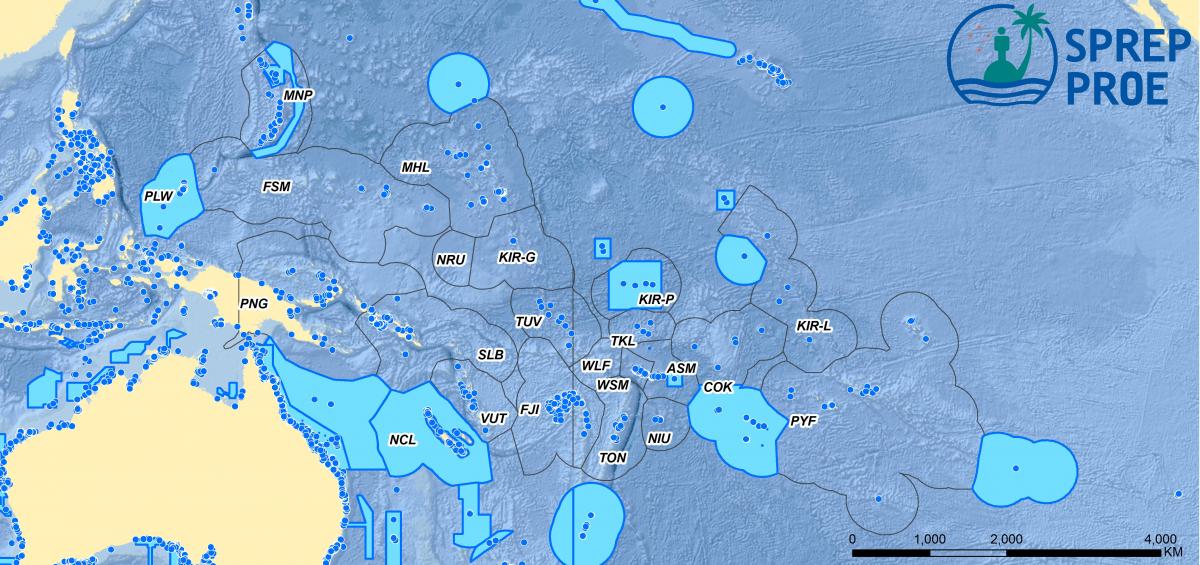 Origin of the PIPAP
The Protected Areas Working Group (PAWG) of the Pacific Islands Round Table for Nature Conservation recommended a forum to better connect a diverse range of people and their work relating to protected and conserved areas. To increase efficacy with respect to gaining momentum with communications and conservation work, the Pacific Islands Protected Area Portal (PIPAP) was launched.
Guided by the results of our regional needs assessment, we have designed this portal to benefit  you. PIPAP offers a range of selected resources and opportunities that can assist you in your everyday work. in addition, we provide a weekly newsletter to disseminate the latest regional and international news on protected areas, upcoming regional and international events of interest, employment vacancies and latest research and studies, click here to subscribe. We also feature a talanoa discussion forum for you to share knowledge, exchange information and communicate with other practitioners in the region - click here to sign up.
You can click the links in the graphic to navigate around the portal, or you can use the main drop down menu. Whenever you see the logo within the portal, click it to return to the home page.
For more background information on the Pacific Islands Protected Area Portal, read our information sheet. 
We welcome feedback and suggestions and are also happy to promote any opportunities or resources that you may have. Please feel free to contact us by emailing  [email protected].
Image