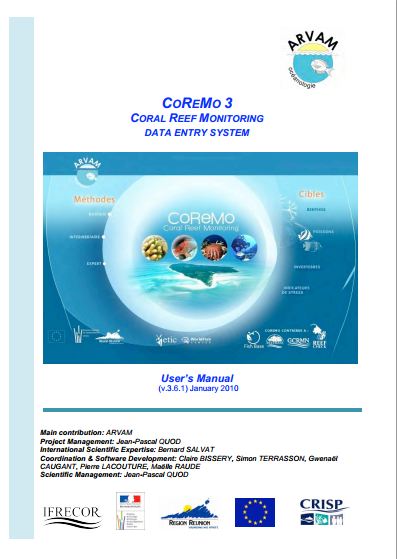 Quod, JP., Salvat, B.; Bissery, C., Terrasson, S., Caugant, G., Lacouture, P., Raude, M. 2010. CoReMo Coral Reef Monitoring Data Entry System 2 v3.6.1. ARVAM Oceanology
CoReMo software was developed by ARVAM with support from the French Overseas Ministry, Réunion Regional Council and the EU, and in close collaboration with the WorldFish Center, Penang, Malaysia. The software is fully interoperable with ReefBase and FishBase.

CoReMo 3 is designed to help users enter and analyse data collected using the methods and protocols outlined in Methods for Ecological Monitoring of Coral Reefs.

The Monitoring Manual sets out the methods used to collect data. The database architecture is based on the "Survey Manual for Tropical Marine Resources" (English et al. 1997).