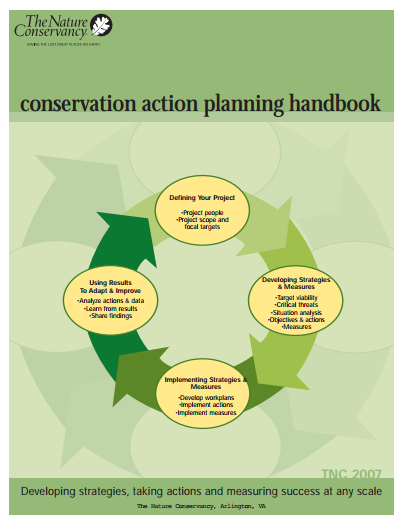 The Nature Conservancy. 2007.  Conservation Action Planning (CAP) Handbook Developing Strategies, Taking Action and Measuring Success at Any Scale. The Nature Conservancy, Arlington, VA.
This handbook is intended as a guidance resource to support the implementation of The Nature Conservancy's (TNC's) Conservation Action Planning (CAP) Process , a powerful instrument for helping practitioners get to effective conservation results.

The CAP process is a key analytical method that supports 'Conservation by Design', The Nature Conservancy's strategic framework for mission success. Steps covered in the handbook are: identifying people involved in your project; defining project scope & focal conservation targets; assessing viability of focal conservation targets; identifying critical threats; completing situation analysis; developing strategies: objectives and actions; measuring results; developing work plan for actions and measures; implementing your actions and measures; analysing, learning, adapting, and sharing.