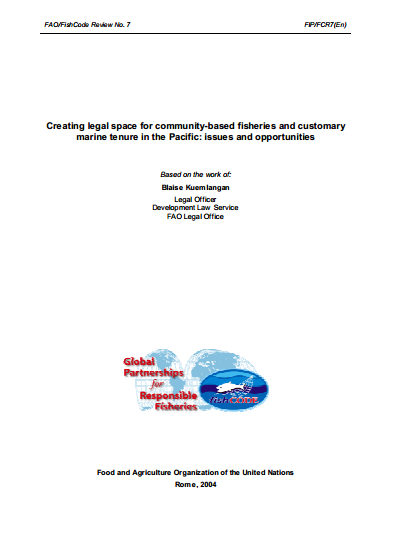 Kuemlangan, B. 2004. Creating Legal Space for Community-based Fisheries and Customary Marine Tenure in the Pacific: Issues and Opportunities. FishCode Review. No. 7 (En). Rome, FAO.
This is a brief study that primarily looks at the legal aspects of Community Based Fishery Management (CBFM) and the role of legislation in enhancing Customary Marine Tenure (CMT). It was prepared on the basis of a literature and legislative review and site visits to the Cook Islands, Fiji, Palau, Papua New Guinea, Solomon Islands and Vanuatu.

This paper is divided in three overall sections:
overview of legal issues and legislative considerations for CBFM
outline of customary marine tenure as the basis for CBFM in the Pacific with examples from Cook Islands, Vanuatu, Fiji and Samoa.
suggestions for CMT use in the Pacific.