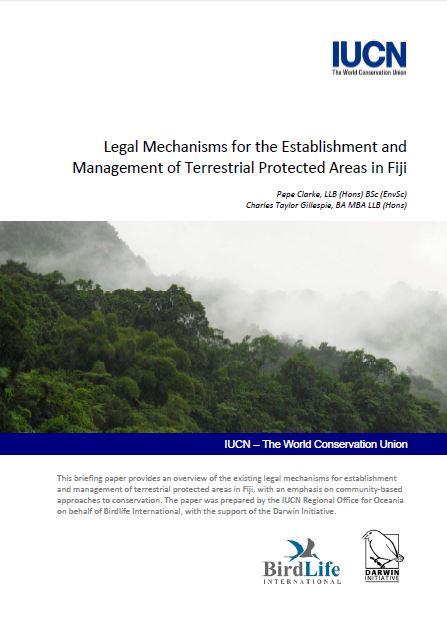 Clarke, P. Gillespie, C.T.  2009. Legal Mechanisms for the Establishment and Management of Terrestrial Protected Areas in Fiji.  IUCN. Suva, Fiji.
This briefing paper provides an overview of the existing legal mechanisms for establishment and management of terrestrial protected areas in Fiji, with an emphasis on community‐based approaches to conservation. Both the international policy context and a review of the relevant national policies are described along with a summary of all national legislation that has the potential to deliver site-based conservation benefits. This is in light of the fact that Fiji does not have a dedicated protected area legislation.

An example of the clear recommendations that this paper concludes with is: 'Consult with key stakeholders to identify priorities for legal training and assistance to facilitate the effective establishment and management of terrestrial protected areas'. This type of review paper would be extremely useful for all countries and territories in the Pacific Islands.