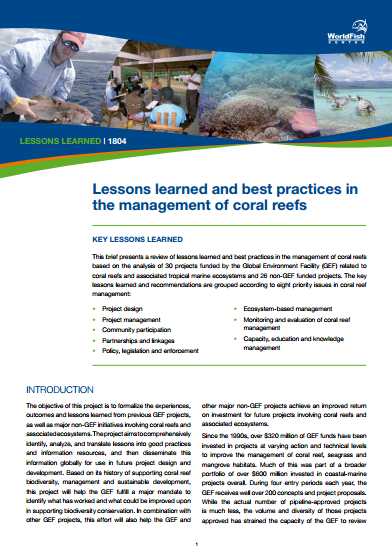 WorldFish Center. 2008.  Lessons Learned and Best Practices in the Management of Coral Reefs. Lessons Learned 1804, Penang, Malaysia
WorldFish Lessons Learned briefs are executive summaries of research projects with particular focus on lessons learned. They are designed to play a role in knowledge management and sharing. This brief presents a review of lessons learned and best practices in the management of coral reefs based on the analysis of 56 coral reef and tropical marine ecosystem projects (30 of which were GEF funded). 

The key lessons learned and recommendations are grouped according to eight priority issues in coral reef management: project design; project management; community participation; partnerships and linkages; policy, legislation and enforcement; ecosystem-based management; monitoring and evaluation of coral reef management and capacity, education and knowledge management.