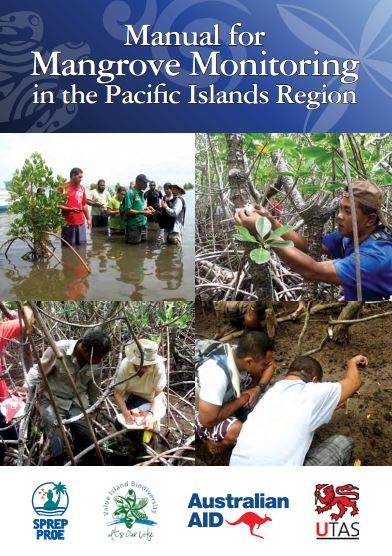 Ellison, J.C., Jungblut, V., Anderson, P., Slaven, C. 2012.  Manual for Mangrove Monitoring in the Pacific Islands Region. SRPEP, Apia, Samoa.
Prepared for SPREP in response to calls from member countries in 2007 and recently updated in 2012, this manual adapts internationally accepted mangrove monitoring methods to Pacific Island settings. Baseline survey data can be generated to monitor changes and make comparisons across mangrove areas in the wider Pacific.
 
The manual contains background information on mangroves and has some consolidated data on mangroves for the Pacific Island region (e.g. number of mangrove species and area covered for each country). The methods described cover three different levels of monitoring with each one building on the previous. This comprehensive monitoring guide has detailed instructions, relevant pictures and sample data sheets. Examples are provided from Fiji, Tonga and the Marshall Islands.