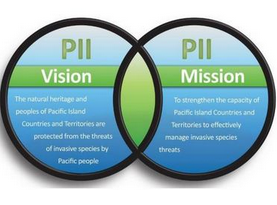 Pacific Invasives Initiative. 2013.  Pacific Invasives Initiative, Resource Kit for Invasive Plant Management. Auckland, New Zealand.
The Pacific Invasives Initiative (PII) is the leading capacity development organisation for invasive species management in the Pacific region.

The PII Resource Kit for Invasive Plant Management (Invasive Plant Resource Kit) is a practical guide to assist invasive plant teams (i.e. decision makers, project managers, officers and field crews) to apply informed decision making in the prioritisation, design, development and implementation of an effective invasive plant management programme, thereby, increasing their chances of success.

The entire kit is available online and helpfully divided into useful sections that provide background information and details on the various stages of project implementation.