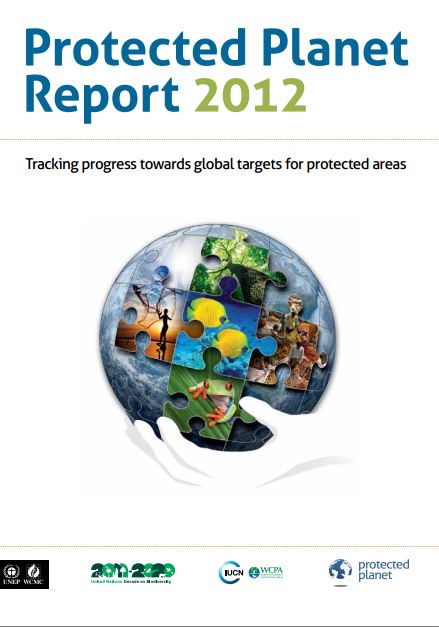 Bastian Bertzky, B., Corrigan, C., Kemsey, J., Kenney, S., Ravilious, C., Besançon, C. and Burgess, N. 2012. Protected Planet Report 2012 Tracking Progress Towards Global Targets for Protected Areas. IUCN, Gland, Switzerland and UNEP-WCMC, Cambridge, UK.
This new initiative tracks global progress towards Target 11 of the CBD Aichi Biodiversity Target which calls for at least 17% of the world's terrestrial areas and 10% of marine areas to be equitably managed and conserved by 2020.

It reports that 12.7% of the world's terrestrial and inland water and 1.6% of the global ocean area, 4% of all marine area under national jurisdiction and 7.2% of all coastal waters were protected by 2010.

The report also analyses protected area coverage of biodiversity by quantifying coverage of terrestrial and marine ecoregions, Alliance for Zero Extinction sites (AZEs) and important bird areas. Global protected area coverage in terms of management effectiveness, governance, connectivity and finance are also assessed.