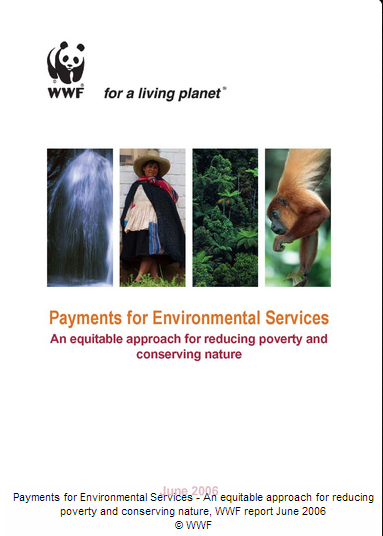 Duncan, E. 2006. Payments for Environmental Services An equitable approach for reducing poverty and conserving nature.  WWF-Netherlands
This document provides useful background information on Payments for Ecosystem Services (PES). The first chapter is an overview of the traditional approaches to PES, and the second chapter provides information on WWF's approach which is known as equitable PES.

Six case studies are described which show examples of WWF assisted PES schemes globally. These include: forest landscape restoration in Peru (paid for by mining companies and public sector organisations etc); improvement of farm productivity and attempts to prevent forest loss in Tanzania and improvement of watershed management schemes in Indonesia (paid through incentive schemes).